This week's Rockwood Lane Weekly finds include Spring DIY, decor and outfit ideas.
This post contains affiliate links for Etsy and Amazon. If you make a purchase by clicking on them, I make a small commission at no extra cost to you. Thanks for your support!
In a hurry? Pin this for later when you have more time.
In a hurry? Pin this for later when you have more time.
I have made it to the border on my crocheted afghan – woo! I have 3 more rounds, and then I can weave in the remaining ends, and photograph. I ordered a two new covers for my couch – one in beige and one in black. I currently have a dark gray one, and I've had it for years, but it's now seeing wear so time to change, plus I have been wanting to change up my decor.
I've finally gotten my craft room closet cleared, vacuumed, and got all the totes that have been all around my living room and porch put away. Feels so nice to have the extra space again, and now I can get back to my various crafts. I have some plastic canvas designs started, and tons of charms to turn into earrings.
In case you missed last week's edition of The Rockwood Lane Weekly 23. Thank you to Maggie of Crochet Happens for helping out with the photo collage! Check out her Etsy Shop for some great handmade items, like these adorable little Pocket Hearts.
Let's Get to Those Great Finds!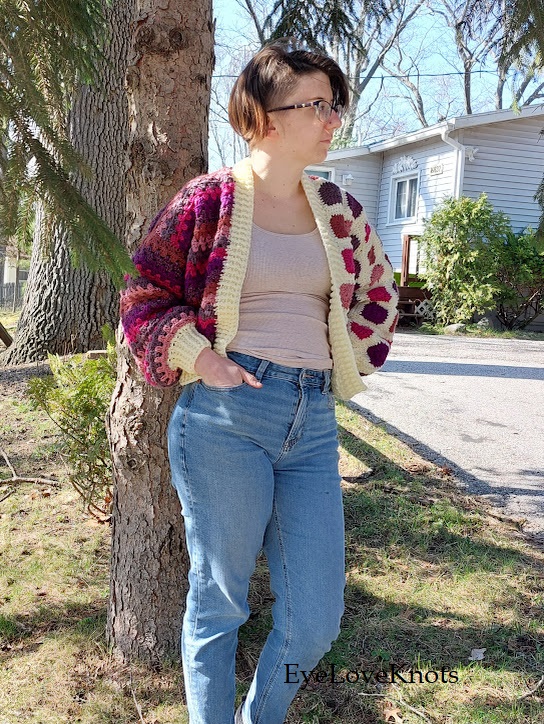 On my EyeLoveKnots blog, Abby of A Stitch Shy of Normal shared a crochet pattern review for the most beautiful Half & Half Cardigan. She says, "I was incredibly happy with the process and my results in this finished cardigan. It's eye-catching, fun, and comfy! The pattern was simple to understand and even the sewing wasn't hard. It just takes time to put all the squares together, but at the end, you'll have a gorgeous cardigan to show off to the world!"
Last week, I shared an outfit from Mireille of Chez Mireille that used a scarf as a belt, but I also love the way she uses a scarf for a little more coverage, like either a long shirt, or a skirt – a great pair with lightweight leggings. She includes 4 other ways to wear a scarf too!
Tell me, do you have Chinoiserie items in your home? I love seeing homes filled with it! Especially all the ornaments I spotted last Christmas. To add to your Spring decor, Kristi of i should be mopping the floor has these beautiful Chinoiserie Bunny Silhouettes free prints for us.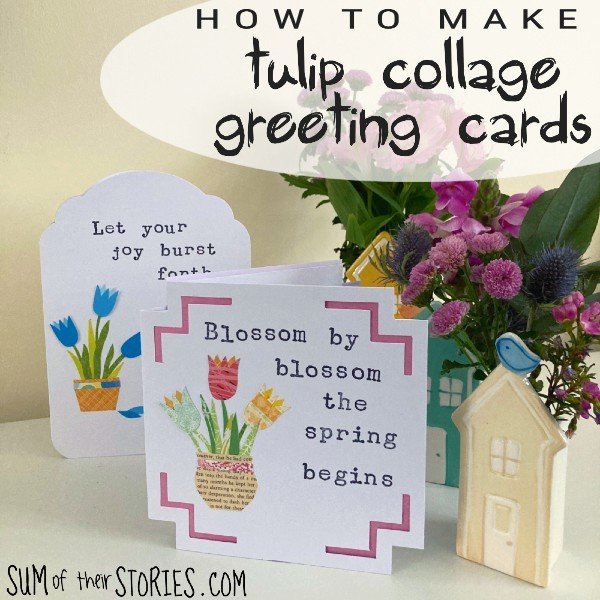 Julie of Sum of their Stories hosts a monthly blog hop – the Sustainable Craft Challenge Blog Hop – and for April, the theme was Spring, and she shared these beautiful Tulip Cottage Greeting Cards.
On my Cre8tion Crochet blog, Kami Jones shared a crochet pattern review for these beautiful Alma Fan Earrings. She says, "Nothing says springtime like a new pair of earrings! They are a perfect make for spring markets or as a Mother's Day gift. The Alma Fan Earrings are a great introduction to earrings for those who are looking to make their first pair."
Teresa has created a Seamless Digital Sheet of Monstera Leaves, and it's available to download for free! So many possibilities with this beauty.
I haven't heard of the A-Z Challenge before, but I love it! It involves blogging every day except Sundays and each day corresponds to a letter of the alphabet. The daily posts most relate to that letter and can all have a theme or can be totally random. Debbie of My Random Musings is sharing Recommended Readings throughout this challenge – perfect if you're looking to add some more books to your shelf.
f
Valentine's Day may have passed, but these beautiful Valentine's Day free printable Gift Tags from Kristi of Print Pretty Cards can be used all year long to celebrate different occasions!
One thing I look forward to every month is changing the wallpaper on my computer when Kristi of i should be mopping the floor shares a new device wallpaper for computer, tablet and phone. I was running a bit behind in changing mine out so as I was visiting for the April Bee Wallpaper, I scrolled through and saw this fun Spring Floral Wallpaper from March.
While she does share one version with a calendar, she also shares a blank version so you can use it any time of year. Tulips always make me think of Mother's Day, and the colors in the other one are giving me Summer vibes so these could easily be used then!
I always look forward to seeing how Debra of Common Ground decorates her holiday cupboard, and this bunny themed one is just too cute!
Andrea of The Cottage Market has updated this post to now contain 40+ of the Most Fabulous Cart Hacks. So many great ways to use a tiered rolling cart!
Looking for book recommendations? Joanne of My Slices of Life has shared with us a collection of book reviews of the books she's read in March.
Tamara of Moogly Blog has a series of the cutest Squish's, and the newest one to join the family is the Duckie Squish (free crochet pattern).
Join one of our awesome Facebook groups to share your creations, and see what others are up to!
– Yarn Crafts & Coffee Community
– DIY Home On Rockwood Lane
– Alexandra Lane Lifestyle
Linked Up To…
681st Inspire Me Tuesday – A Stroll Thru Life
Fabulous Party 474 – Lou Lou Girls
The Happy Now Blog Link- Up #371 – JENerally Informed
Happiness is Homemade 478 – Decor Craft Design
Craft Schooling Sunday – Creative Jewish Mom
Sundays on Silverado #144 – The House on Silverado
Handmade Monday #326 – Sum of their Stories
You're the Star Blog Hop – Decor Craft Design
Hello Monday – Pink Lady
Anything Goes Linky 377 – My Random Musings
Wonderful Wednesday Blog Hop – My Life Abundant
Wednesday Link Party #347 – To Grandma's House We Go
260 Senior Salon Pit Stop – Esme Salon
Crafty Creators Link Party #66 – Life as a LEO Wife
Encouraging Hearts and Home Blog Hop – My Slices of Life
Create, Bake, Grow & Gather Party #571 – Shabby Art Boutique
Funtastic Friday Link Party #436 – Simply Beautiful by Angela
A Morning Cup of Joe – The Cottage Market
Pink Saturday – How Sweet the Sound