This week's Rockwood Lane Weekly finds include Spring, Summer and Christmas DIY, decor and outfit ideas.
A fun crocheted Flamingo crochet pattern, coastal themed table upcycle, Summer beach cover up sewing pattern, free tropical flower device background, a vintage orange juice carafe and plastic canvas earrings are just a few of the things you'll find in this week's collection!
This post contains affiliate links for Etsy and Annie's Catalog. If you make a purchase by clicking on them, I make a small commission at no extra cost to you. Thanks for your support!
In a hurry? Pin this for later when you have more time.
One thing you may not know about me is that I love live music. I have a few friends that play around Central Florida both solo and in bands, and I love coming out when I can. I spent a couple hours out this past Saturday at a bar on I-Dr in Orlando called Tin Roof. They have the main bar, and then The Green Room next door, where I went to listen to my friend Kaci-Jo play. I shared about it on Instagram, and took my yarn out with me to work on the next Christmas in July project.
This week, I've managed to get 7 more video tutorials completed, including for the Grace Tinley Infinity Scarf that I shared last December. It's an easy scarf pattern worked in the classic granny stitch pattern and worsted weight yarn, and has 4 sizes included.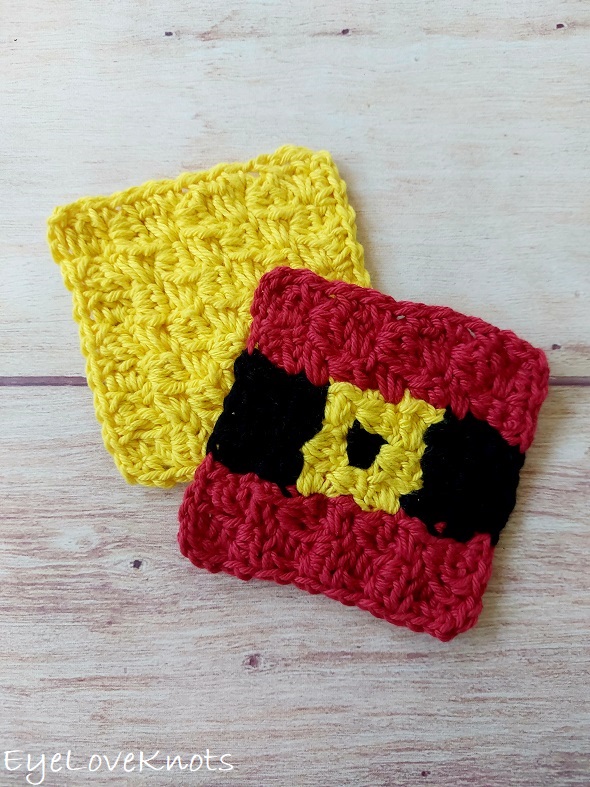 And for the C2C Santa Coasters that I shared last weekend for Christmas in July on the EyeLoveKnots blog. C2C stands for Corner to Corner. It's a crochet technique where you start in the bottom corner, in this case with 1 box, and then build up diagonally until you reach the width that you want, then start decreasing back down to 1 box in the other corner on the top.
You guys, I'm happy dancing!! It's been a lot of long days and late nights, but it feels so good to get these projects finished, and posts and videos ready to go. The mountain of WIPs (works-in-progress) on my desk does not look much smaller, but I can still feel it.
Of course, I've added more projects into the mix, and drafted new videos inspired by projects I was working on – it's all part of the fun, and I'm enjoying it all so much more now that I've been able to close up old projects, and get into working on new ones.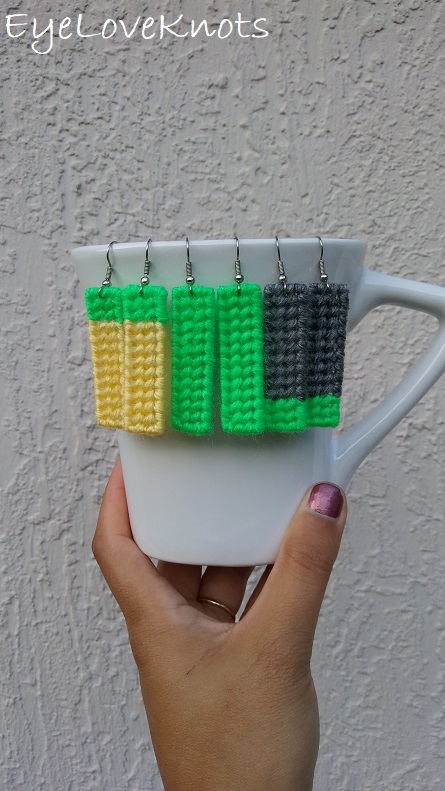 Question for you, do you do plastic canvas projects? It was my first love, even before crocheting! And I've shared a few free patterns over on my EyeLoveKnots blog, including these Color Block (or Not) Earrings, but I'm curious to know if you like to work with plastic canvas, or if you haven't before, are you interested?
I haven't worked on any new projects in a while, and I'm thinking of jumping back in, and bringing it over here to the On Rockwood Lane blog. It's an easy craft, and doesn't require any previous knowledge. While it can be time consuming, it's so much fun, and such a versatile craft too! Would love to hear from you!
This week, I've added this Vintage 1987 Anchor Hocking Orange Juice Carafe to my eBay shop.
As well as this 2010 Blue Sky Seahorse and Seashell Menagerie Serving Bowl.
If you're interested in either of them, or any other items in my shop, I do accept Best Offer, so feel free to send me an offer, and mention you've popped over from this post.
In case you missed last week's edition of The Rockwood Lane Weekly 32. Thank you to Maggie of Crochet Happens for helping out with the photo collage!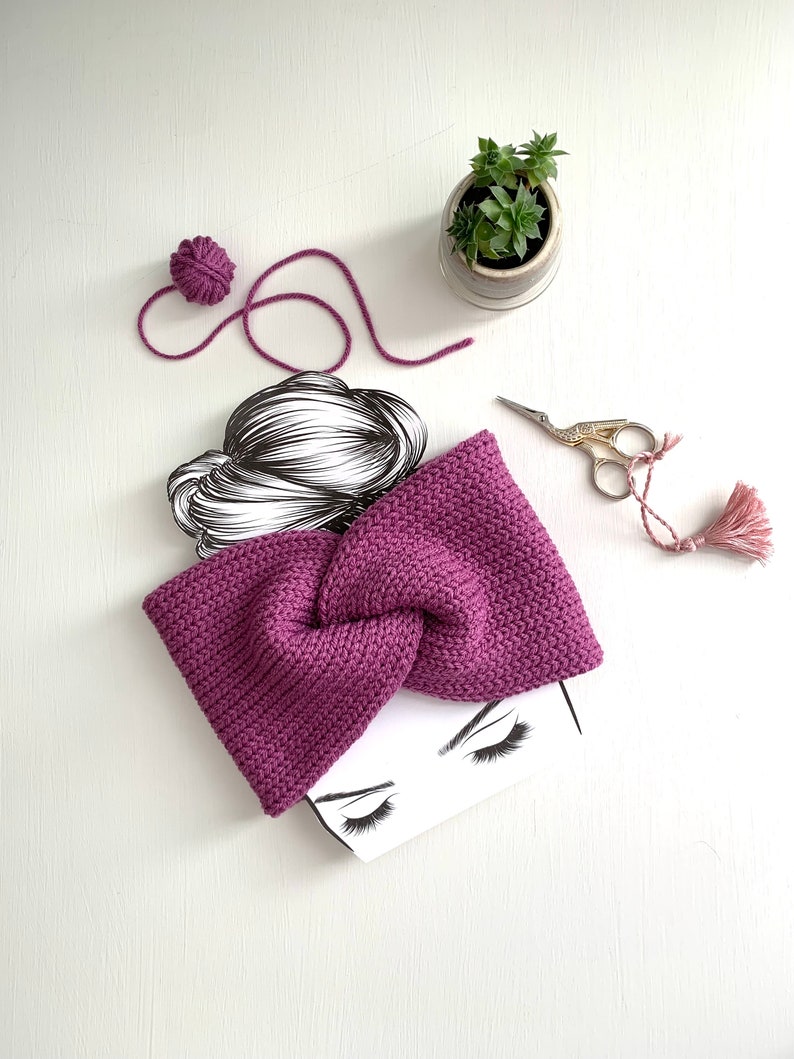 Check out her Etsy Shop for some great handmade items, like this beautiful Double Layer Knit Ear Warmer that would make a nice holiday gift – never too early to start shopping!
Let's Get to Those Great Finds!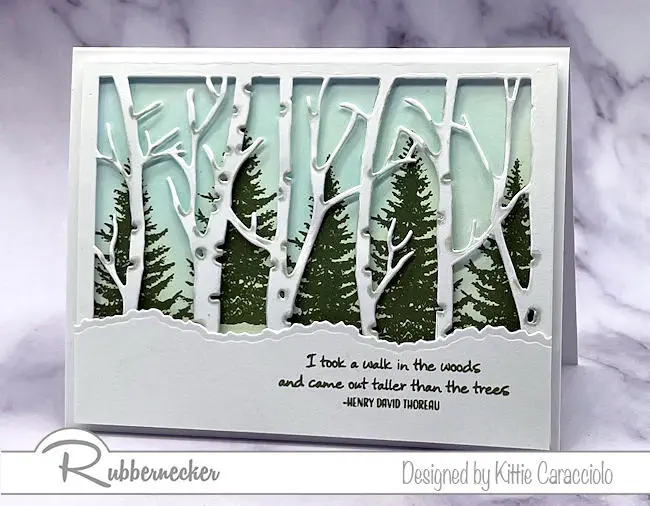 Winter woods scenes will grab my attention – they're just beautiful night or day! Kittie of Kittie Kraft walks us through how to make A Beautiful Winter Birch Card.
A Winter's Night Rhapsody was a CAL, that's Crochet a Long, hosted by Tonya of Nana's Crafty Home. This free crochet pattern is broken down into smaller pieces, which together with the fun sampler style, always help afghans go faster. I really like the blues and white, but you could also add some warmth with purple and red, or go for more of a Scandinavian vibe with red and gray.
If you like this one, you may also want to try her Spring Rhapsody Blanket and Autumn Rhapsody Blanket, which are both worked up in a similar manner.
A Holiday Home Sign is a great project that is perfect for year 'round decorating and added fun being able to easily change out the seasonal item that represents the "O". If you like this kit from Annie's Catalog, then you'll love the Creative Woman Monthly Kit Club and the Farmhouse Style Monthly Kit Club!
Julie of My Wee Abode has a free printable for some beautiful Boho Christmas Gift Tags.
Tamara of Moogly has added another adorable squish to the collection – a Penguin Squish! Use this squish as a throw pillow or cuddly toy.
Caroline of Sew Can She has a free quilting pattern for this Oh Holy Night Christmas Quilt. At 36″, it makes a lovely baby-child size blanket. It would also make a nice wall hanging in the living room or bedroom!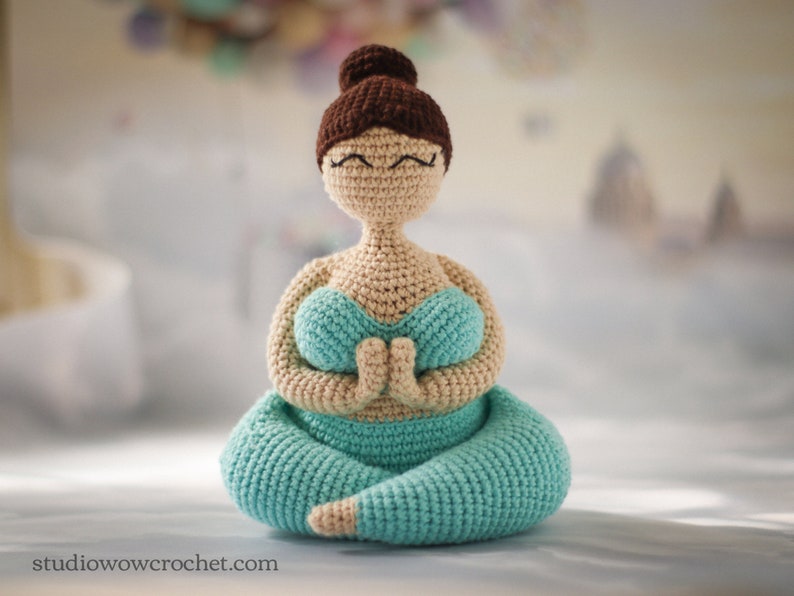 Do you do yoga? If so, you may want to work up a Amigurumi Yogi Girl to inspire. It's a paid crochet pattern from StudioWowToysUA on Etsy.
These Polymer Clay Gingerbread Charm cuties are from Lindsay of Artsy-Fartsy Mama. She provides us a photo tutorial showing each step of the way – even how to get the texture. Use these charms for a necklace, keychain or ornament!
So exciting to my Gia Afghan from EyeLoveKnots featured at the Craftastic Monday Link Party hosted by Sew Can Do! Come on by to see what other's have shared, and link up your own project too! What is a link up party? Let me tell you all about these fun parties, and share my ultimate list with you!
Julie of Sum of their Stories has a free pattern and photo tutorial showing us how to Sew a Mini Felt Robin Softie. I like how she shows it in a shirt pocket, like a pocket bird to perk you up when you're feeling down, but it would also make a nice ornament for a woodland themed tree, or gift tag as well.
Have you ever wondered if a scarf works up quicker widthwise or lengthwise? Kami Jones did this experiment comparing the Easy Skinny Summer Scarf & Retta Infinity Cowl, and shared a crochet pattern review for each and the results over on the Cre8tion Crochet blog.
This Christmas Village Advent Calendar from Bird's Party is just gorgeous! What a beautiful tree created with the different layers, and the houses have been decorated so nicely! You could use bird houses for this craft, or cut the little houses out of paper or with a Cricut.
Pia of Stitches n Scraps has put together a great collection of 20 Holiday Patterns to Knit and Crochet.
I love how Jess of Elegantly Dressed and Stylish has styled this tweed vest in this menswear inspired look! I've always been a fan of this style, though I've never tried it myself. I think I will need to find myself a tweed vest.
Tera of Trifles n Treasures recently released this adorable Mini 'Mingo Crochet Pattern! Too cute! It's a paid crochet pattern via Ravelry perfect for Summer fun!
Every month, I look forward to changing out my computer's wallpaper with the newest one from Kristi of i should be mopping the floor. Phone, tablet, and computer options available with and without calendar featuring this fun, Summery print for July.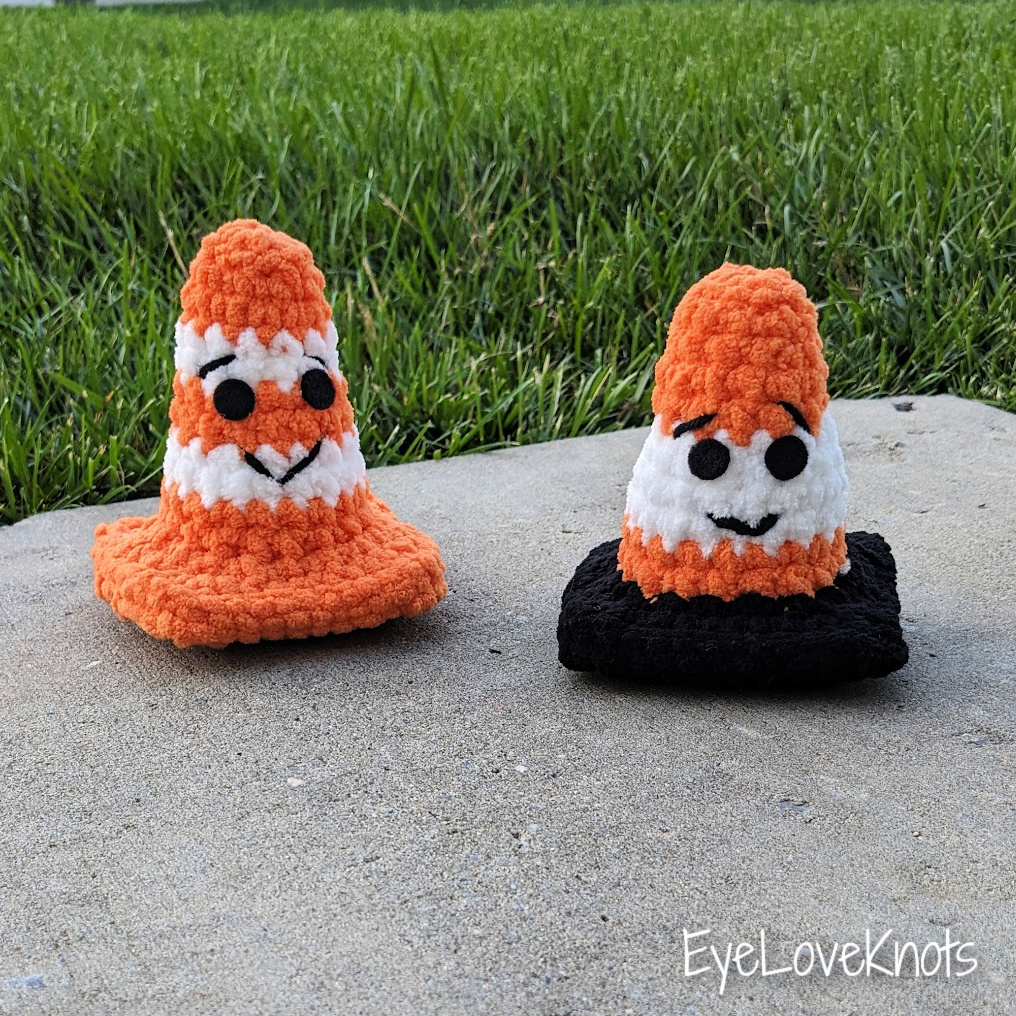 Candace of T&C Crafters shared a crochet pattern review for these super cute Terry the Terrific Traffic Cones. She says, "This pattern is no-sew and easy to follow. It works up quickly with well-written directions and pictures included throughout the pattern. The pattern includes two color variations and can be adapted to different weights of yarn. I love how easy this pattern is to work up, and I'm making a bunch to take along to my next market!"
She also takes custom orders if you would like to have your own! They would be so cute in a construction themed kids room, and for play time if your little likes to play handyman or excavator operator.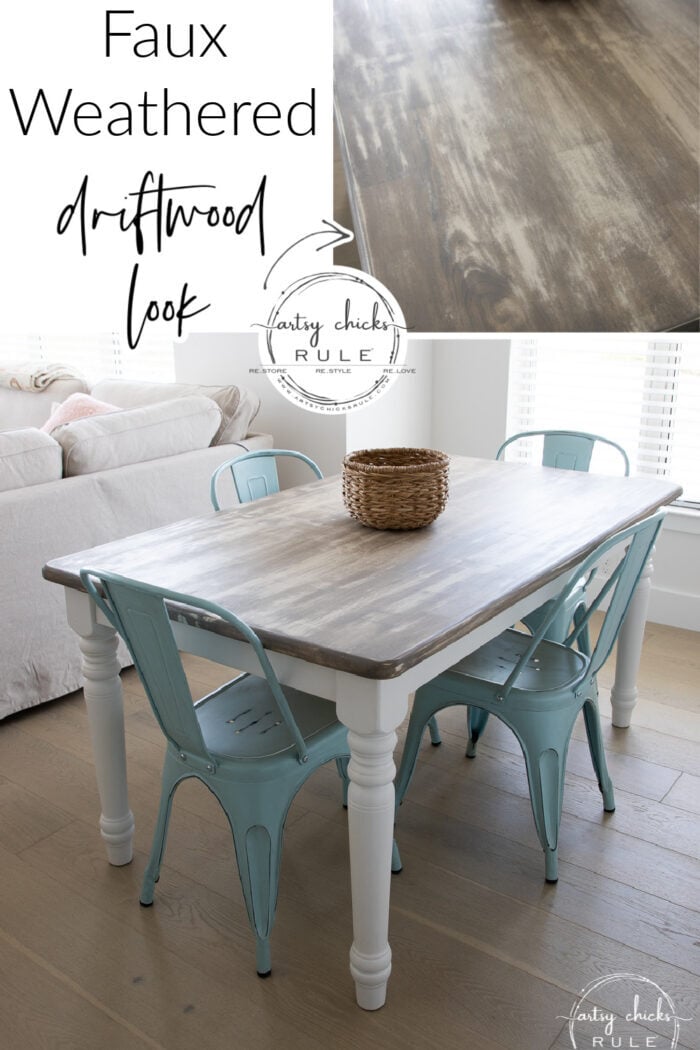 In this upcycle, Nancy of Artsy Chicks Rule discovers after a happy accident, it actually was no accident at all, but created this beautiful Faux Weathered Driftwood look for the Tabletop, and she explains how to achieve the same look.
Thinking of taking a trip to Carmel By-the-Sea? Or in need of a vacation idea? Lizzie of Lizzie in Lace has shared a travel guide based on her trip sharing What to Do in Carmen By-the-Sea sharing where to stay, what to wear and what to do.
Mayra of So Sew Easy has shared a free sewing pattern for an easy tunic with sizes 10 to 24. This tunic would be great as a bathing suit cover, or lightweight dress for Summer.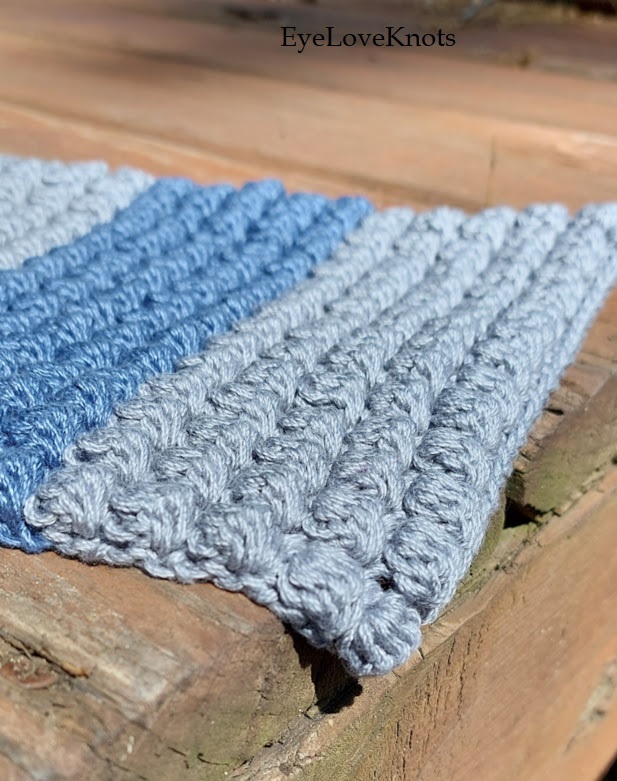 Abby of AStitchShyofNormal has found a great Bobble Stitch Hot Pad to use in the kitchen crocheted with cotton yarn, and she shares a crochet pattern review with us about it. Do you have any crocheted hot pads in your kitchen you've made, been gifted or rescued from a thrift store?
If you have leftover styrofoam pumpkins from Fall, they make a great base for a DIY Cactus! This step by step tutorial by Our Crafty Mom for Kenarry will guide you through creating your own cactus. Make 1 or make a bunch, and create your own cactus garden!
Andrea of The Cottage Market has put together a great collection of Coastal DIY Projects. Great ideas for a coastal or lake themed home or to just to celebrate Summer with.
Join one of our awesome Facebook groups to share your creations, and see what others are up to!
– Yarn Crafts & Coffee Community
– DIY Home On Rockwood Lane
– Alexandra Lane Lifestyle