February has me currently loving the Santa Fe and the Fat City Horns band, feeling down in the dumps, posting an easy crochet pattern for washcloths, receiving an adorable giraffe lovey and seeing the Hoover Dam!
This post contains affiliate links for Etsy and Amazon. If you make a purchase by clicking on them, I make a small commission at no extra cost to you. Thanks for your support!
In a hurry? Pin this for later when you have more time.
Several of the lifestyle bloggers I've followed over the years have participated in this Currently series hosted by Jennifer from Overflowing with Thankfulness. Joanne from My Slices of Life has inspired me to join in.
This month, Jennifer has prompted us to discuss what we're loving, feeling, posting, receiving and seeing. Make sure to visit with her, and scroll down to see what's are Currently in February.
I recently took a trip to Nevada, so I'll be sharing some of my favorites from the trip in here.
Loving
I got to see Santa Fe and The Fat City Horns perform at The Copa Room in The Bootlegger Italian Bistro, which by the way, has amazing food and service! I was blown away! The band itself was amazing, and they even had some comical bits. I really enjoyed the way the entire band vibed together. You could see everyone was just playing their hearts out, and having a great time. I've been listening to their stuff on YouTube, but you can also catch them live on their site on Monday nights. If you like a mix of jazz, funk, and R&B, and a killer horn section, I highly recommend it. I will certainly be tuning in!
If you find yourself in the area, I definitely recommend checking out The Bootlegger Italian Bistro. Delicious garlic bites, delicious Chicken Piccata, amazing Italian Cream Cake, super cool vibe, top notch service. I loved every minute of it.
I loved visiting the Venetian Hotel in Las Vegas! Yes, this is indoors! And it was decked out for the Chinese New Year.
As a bird lover, it made me so happy to see all these finches outside of the visitor's center of the Valley of Fire. I could have sat there, and watched them for hours!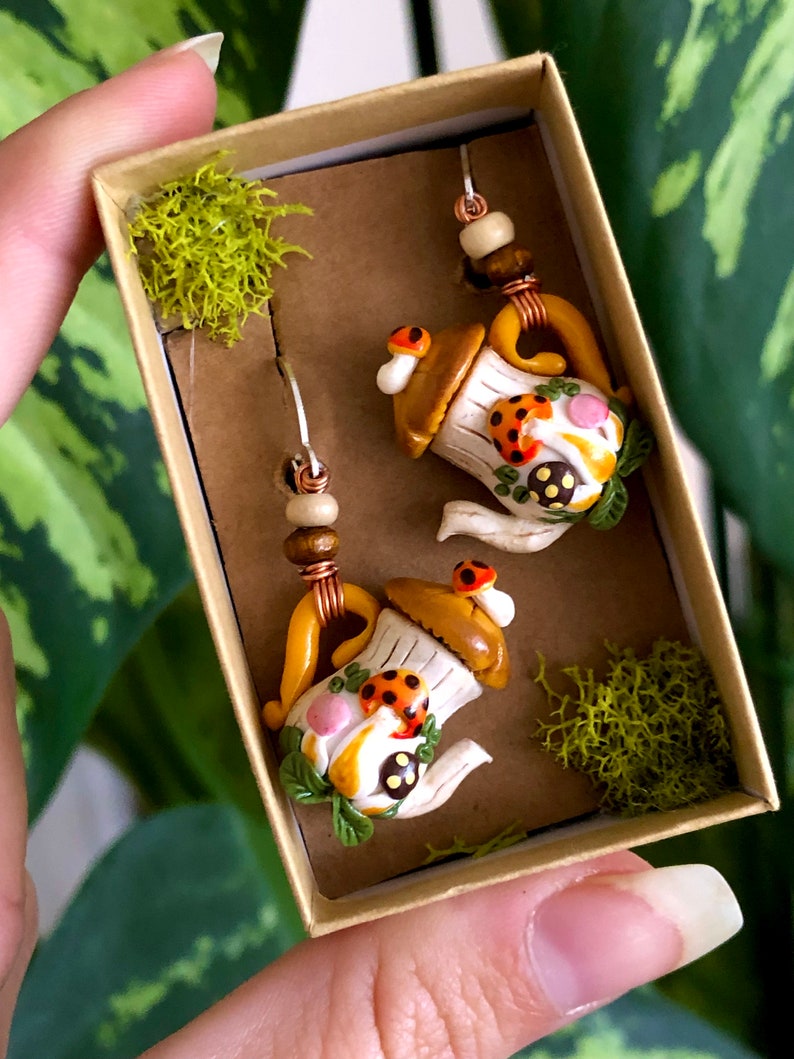 I found these Merry Mushroom Teapot Earrings from NomadicNoveltiesCo on Etsy. They're on my wish list at the moment.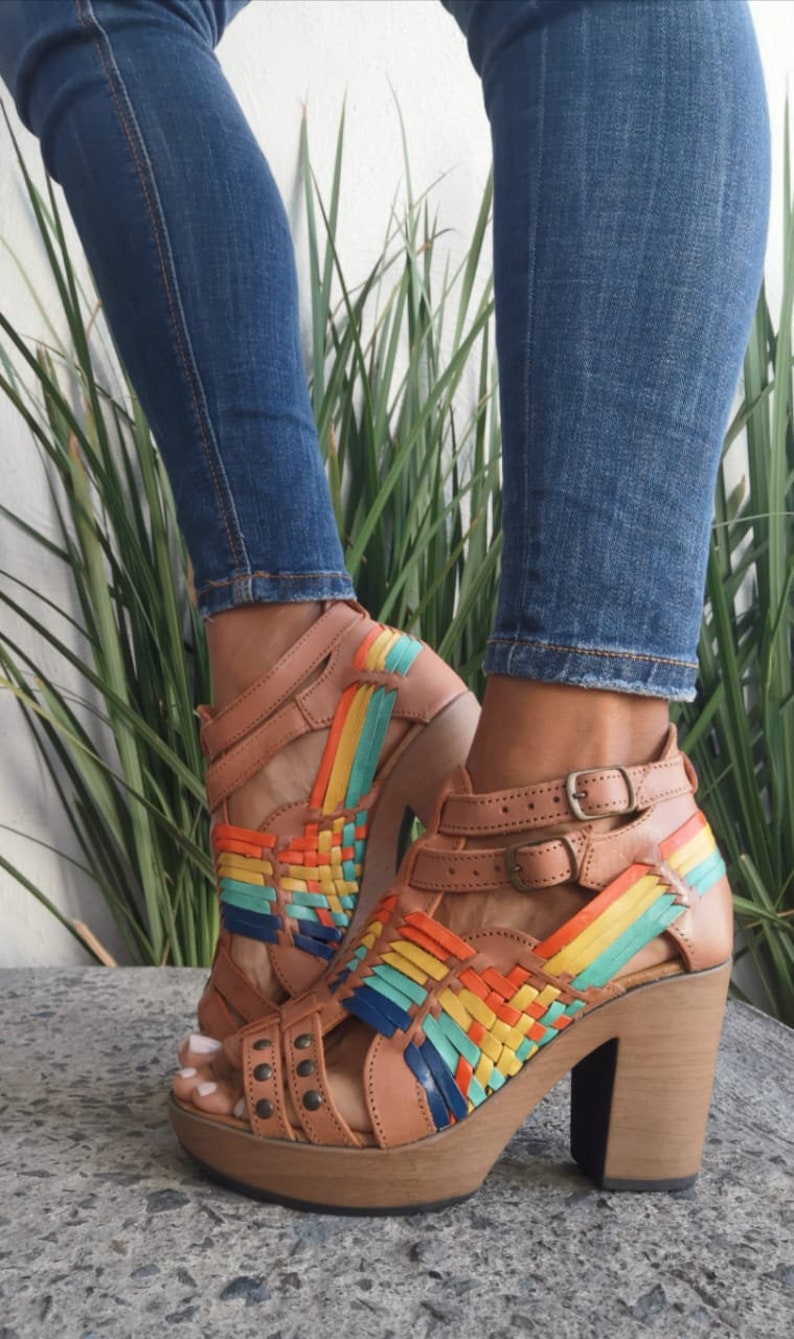 I also found these Huarache Sandals from MacarenaCollection on Etsy. I love the colors, and style, and have it on my wish list as well.
Feeling
I won't lie and say it's all roses and daisies over here. I'm struggling a bit in my personal life, but I wake up every single day thankful for this sweet boy!
Posting
There hasn't been anything shared here On Rockwood Lane since our 30 Gift Ideas Your Music Teacher Will Love! Prior to the New Year, I did some planning, and felt so inspired to get back to regular posting here, but I've been struggling a little lately with motivation and emotionally, and it's made it a bit more difficult. It's still my goal, and a work in progress.
On my sister blog, I've shared a free crochet pattern for some easy single crochet washcloths, and there are 3 sizes available too. The Shay Washcloths are great for exfoliating in the shower, washing and/or drying the dishes and make a lovely gift.
Receiving
In preparation for the trip, I failed to make sure I had Medique Medi-Meclizine. This is a motion sickness medicine I discovered on a cruise a couple years ago. It's available over the counter, and makes a world of a difference! It was a long, miserable flight over to Nevada for me, but as soon as we landed, I looked this up on Amazon, and had it delivered to the hotel. So thankful it came quickly!
I reached out to Candace of T&C Crafters. She has an Etsy shop where she sells physical items, and takes custom orders. If you follow my EyeLoveKnots blog, you'll recognize her as one of our contributors too. She is so kind, and so talented, and I've ordered several items from her over the years.
I wanted a gift for friend of mine who is expecting a little boy. Her nursery is neutral colored with safari animals, so I reached out to Candace, and asked if she could make me a lovey to fit this theme. I trust her completely so I left the colors and type up to her. I suggested maybe a bear or a giraffe.
She sent me some pictures for inspiration, and then she combined them, and created this beautiful rag doll giraffe holding a little blanket of his own, and am absolutely in love! It is the sweetest thing, and so many cute, little details. I will be shopping for an outfit to go with it, and then can't wait to gift!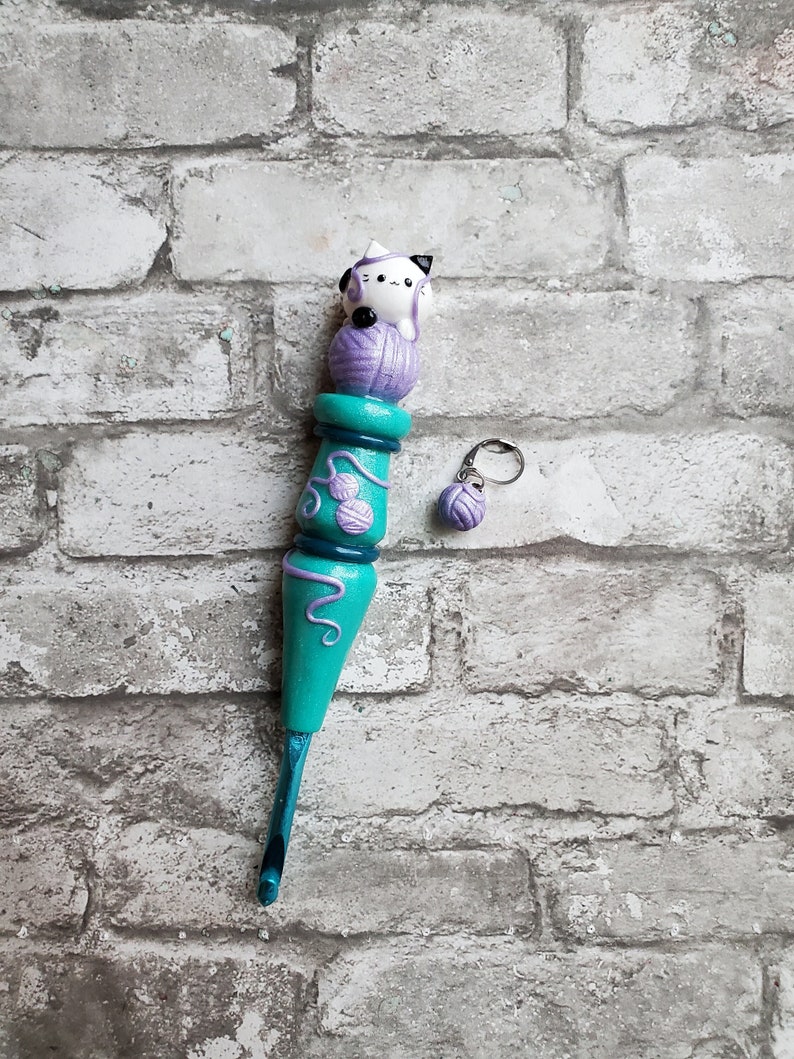 Crocheting is my favorite thing to do, and I do it all the time! I wanted to treat myself to a new, ergonomic crochet hook for the size that I use the most – an H8/5mm.
I searched around on Etsy, and I found this Black and White Cat with Yarn Hook from SiennasBowtique. It was made to order, so it took about a month to get it, but she does have a section for Ready to Ship items too.
I opened it immediately, and started using it. I will admit, it is a little bit heavy, but I love the shaping held in my hand. I do use a large portion of the hook when I work, and the clay comes up sort of high (as seen in the photo) so this will take me a little getting used to. I will certainly be back to her shop for some others like this Chicken Hook, and this Mouse and Cheese Hook.
Seeing
We went to the Hoover Dam. I loved it! From where I am standing, the Hoover Dam is underneath me, and we're looking at the Hoover Dam Bypass Bridge.
And then I went up onto that bridge, and I got this picture of the Hoover Dam! It is truly amazing, and it just blows my mind to think that it was built 80 years ago, and still going strong. I found it so fascinating. A bit sad to see how low the water level has fallen – you can tell in the background there. The light coloring on the rocks used to be filled with water.
We stayed at the Hoover Dam Lodge. From the parking lot of the hotel, you can access the Historic Railroad Hiking Trail, and along it, you will find 5 of these tunnels as you head towards the Hoover Dam. It's a 3 mile walk or so all the way, but we just went far enough to see the 5 tunnels. These tunnels are from the time of building the Hoover Dam, and the train went through here to bring materials and supplies.
We also went to the Valley of Fire. The name comes from the red color of all the rocks.
You may have heard of this rock formation before – it's called Balancing Rock.
I found it fascinating that as I traveled around this rock formation, I saw different shapes. The following two pictures are of the same formation:
I see a dog sitting and waiting for a treat…
And a bird looking up…
We went on a trail here called Mouse's Tank, which was home to rocks covered in 2000 year old petroglyphs. What story do you think is being told here?
Join one of our awesome Facebook groups to share your creations, and see what others are up to!
– Yarn Crafts & Coffee Community
– DIY Home On Rockwood Lane
– Alexandra Lane Lifestyle
Linked Up Too...
Wow on Wednesday – Is This Mutton?
Spread The Kindness Link Up On the Edge #639 – Shelbee on the Edge
Craft Schooling Sunday – Creative Jewish Mom
Sundays on Silverado #131 – The House on Silverado
Handmade Monday #313 – Sum of their Stories
The Really Crafty Link Party #351 – Keeping it Real
Craftastic Link Party – Sew Can Do
You're the Star Blog Hop – Decor Craft Design
Happiness is Homemade – Decor Craft Design
Hello Monday – Pink Lady
Anything Goes Linky 364 – My Random Musings
Home Imagined Link Party #11 – Sky Lark House
671st Inspire Me Tuesday – A Stroll Thru Life
Fabulous Party 462 – Lou Lou Girls
Talent Sharing Tuesdays link-up – Scribbling Boomer
The Happy Now Blog Link-Up #359 – JENerally Informed
Team Creative Crafts Link Party #132 – Artsy-Fartsy Mama
Wonderful Wednesday Blog Hop – My Life Abundant
Wednesday Link Party #334 – Grandma's House We Go
Thursday Favorite Things #578 – An Artful Mom
Creatively Crafty Link Party #366 – Try It – Like It – Create It
Encouraging Hearts and Home Blog Hop – My Slices of Life
Grace at Home No. 495 – Imparting Grace
Linky Party – Karins Kottage
Crafty Creators Link Party #55 – Life as a LEO Wife
First Friday Favorites – Life's Sweet Words