30 Simple Wedding Dresses for Under $60!
This post contains affiliate links for SheIn. If you make a purchase by clicking on them, I make a small commission at no extra cost to you. Thanks for your support!
When I got married in 2019 (see my crocheted wedding dress HERE), I looked high and low for a simple, affordable white wedding dress – you won't believe how hard that can be now-a-days with trends changing. I found so many gorgeous cream colored dresses and cream colored yarns, but I struggled to find a simple, affordable white dress or suitable white yarn.
I had exactly one year from the time my husband proposed until we got married, and at that time (late July), SheIn only had a few dress options left as they were all about crop tops and shorts for Summer, and getting ready to bring in Fall items. I'm going to tell you…
THE BEST TIME TO LOOK FOR SIMPLE, AFFORDABLE, WHITE WEDDING GOWNS LIKE THESE IS IN THE SPRING!
These are all labeled as "prom dresses", but in fact, they're exactly what I was looking for in a wedding dress, and the prices are great!
I've rounded up 30 of my favorites that are under $60 with many $50 and under, and 4 bonuses dresses that didn't make the cut for 30, or were over the $60.
Please note: pricing and available to purchase as of posting on 04.08.21, but many of these will restock (you can tell by the number of reviews), so if any are sold out, but on your wishlist, favorite it, and check back or search by clicking the "find similar" button.
Let's See Those Wedding Dresses!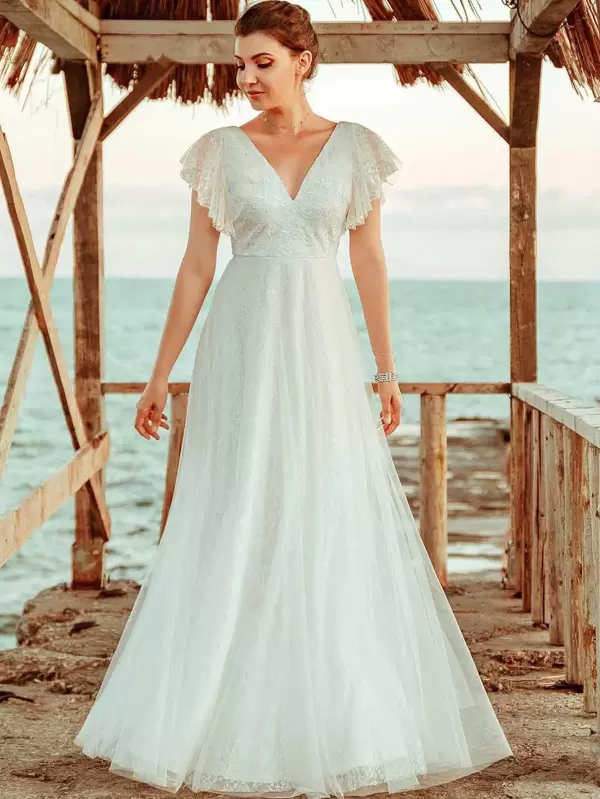 Ever-Pretty Lace Bodice Flutter Sleeve Mesh Dress (Sizes S – 3X) – $46
Ever-Pretty Fold Off Shoulder Mermaid Hem Dress (Sizes S – XL) – $55
Ever-Pretty Embroidered Mesh Bodice Lantern Sleeve Chiffon Dress (Sizes S – XL) – $50
Ever-Pretty Mermaid Hem Tube Dress (Sizes S – XL) – $51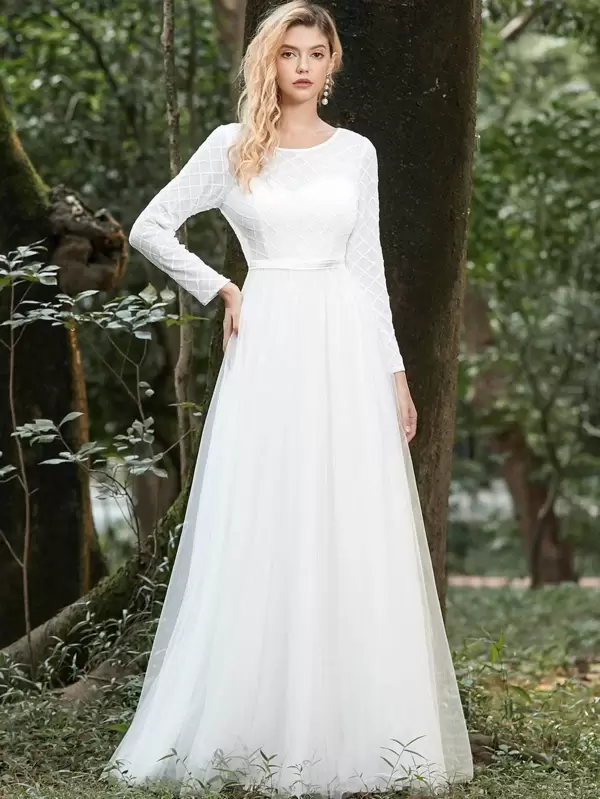 Ever-Pretty Contrast Sequin Mesh Dress (Sizes S – XL) – $50
Ever-Pretty Contrast Lace Dress (Sizes S – XL) – $60
Ever-Pretty Cold Shoulder Flutter Sleeve Maxi Formal Dress (Sizes S – 3X) – $47
Ever-Pretty Double V Neck Lace Overlay Dress (Sizes S – XL) – $44
Ever-Pretty Low Back Surplice Neck Ruched Mesh Dress (Sizes S – 5X) – $42
Ever-Pretty Bell Sleeve Split Fishtail Hem Lace Overlay Dress (Sizes S – XL) – $50
Ever-Pretty Lace Bodice Mesh Dress (Sizes S – XL) – $49
Ever-Pretty Flounce Sleeve Lace Trim Mermaid Hem Dress (Sizes S – XL) – $46
Ever-Pretty Zipper Back Lace Overlay Dress (Sizes S – XL) – $46
Love&Lemonade Ruched Detail Backless Floor Length Slip Dress (Sizes XS – XL) – $47
Ever-Pretty Appliques Detail Mesh Dress (Sizes S – 3X) – $46
Ever-Pretty Cut Out Back Guipure Lace Trim Chiffon Dress (Sizes S – 3X) – $54
Ever-Pretty Butterfly Sleeve Rhinestone Detail Dress (Sizes S – XL) – $54
Ever-Pretty Asymmetrical Hem Lace Overlay Slip Dress (Sizes S – XL) – $45
Ever-Pretty Ruched Bodice Ribbon Waist Chiffon Dress (Sizes S – 5X) – $44
Ever-Pretty V-back Lace Bodice Chiffon Dress (Sizes S – OX) – $46
Ever-Pretty Double V Neck Ruched Wide Waistband Dress (Sizes S – XL) – $35
Ever-Pretty Split Sleeve Sequin Applique Detail Chiffon Dress (Sizes S – XL) – $50
Ever-Pretty Contrast Sequin Mesh Dress (Sizes S – XL) – $48
Ever-Pretty Surplice Neck Tied Empire Waist Mesh Dress (Sizes S – 5X) – $41
Ever-Pretty Sheer Embroidered Raglan Sleeve Boxy Pleated Dress (Sizes S – XL) – $47
Ever-Pretty Embroidered Flower Glitter Mesh Dress (Sizes S – XL) – $46
SBetro Tied Backless Pom Pom Dobby Mesh Dress (Sizes S – XL) – $25
Ever-Pretty Zip Back Lace Overlay Dress (Sizes S – XL) – $40
Ever-Pretty Flounce Sleeve Lace Overlay Dress (Sizes S – XL) – $44
Ever-Pretty Sequin Bodice Ribbon Waist Mesh Dress (Sizes S – 5X) – $45
Bonus Wedding Dresses Under $100
Ever-Pretty Split Thigh Glitter Dress (Sizes S – 3X) – $44
Ever-Pretty Knot Shoulder Lace Bodice Mesh Dress (Sizes S – XL) – $76
Ever-Pretty Contrast Lace Mesh Dress (Sizes S – XL) – $75
Ever-Pretty Cloak Sleeve Embroidery Detail Mesh Overlay Dress (Sizes S – XL) – $64
Join one of my awesome Facebook groups to share in, and see what others are up to!
– EyeLoveKnots Crochet & DIY Community
– DIY Home On Rockwood Lane
– Alexandra Lane Lifestyle
Linked Up To…
Weekday Wear Link Up – Away from the Blue
Weekly Link-Up #219 – Beauty by Miss L
Turning Heads Linkup – Elegantly Dressed and Stylish
Confident Twosday Linkup – I do deClaire
Style with a Smile Link Up – Style Splash
Style Six – The Queen in Between
Style on the Daily Link Up – Straight A Style
Thursday Fashion Files Link Up #301 – Curly Crafty Mom
Chic and Stylish Link Up – Mummbastylish
Style Link Up – Lizzie in Lace
Fancy Friday Linkup – Nancy's Fashion Style
Unlimited Monthly Link Party 23 – Grammy's Grid
Heart and Soul Link Party – April, the 21st Century Housewife
Over the Moon 272 – Marilyn's Treats
586th Inspire Me Tuesday – A Stroll Thru Life
Fabulous Party 367 – Lou Lou Girls
Your Whims Wednesday #507 – My Girlish Whims
Thursday Favorite Things #485 – An Artful Mom
Encouraging Hearts & Home – Scratch Made Food
Traffic Jam Weekend Link Party #277 – My Bijou Life
Friday Favorites – Busy Being Jennifer
Funtastic Friday Link Party #328 – Simply Beautiful by Angela
A Morning Cup of Joe – The Cottage Market