In this week's edition of Thrift Store Thursday, I'm sharing Pfaltzgraff Yorketowne stoneware.
This post contains affiliate links for Etsy. If you make a purchase by clicking on them, I make a small commission at no extra cost to you. Thanks for your support!
In this week's edition of Thrift Store Thursday, I'm sharing all about Pfaltzgraff Yorketowne stoneware, a cream colored piece featuring a blue floral image, and on some pieces, a thin blue stripe.
I think this set is incredible, and I just LOVE the combination of colors and simple pattern. The quality is outstanding, and holds up very well.
I found a few bags containing all of my pieces, and I was a bit sad to see a few pieces were scratched, and chipped and one mug foot was broken – some of the damage being because it was stored in bags, rather than a box, while the scratches were clearly from being used – this is understandable but the chips and broken pieces is disappointing.
When I pulled out all of the pieces, and looked at them, I ended up with a much smaller selection of items, so instead of being able to set a table, I ended with a more random selection, which you'll see in a bit.
About the Pfaltzgraff Yorketowne Stoneware
According to Replacements, Ltd, the Pfaltzgraff Yorketowne pattern "was introduced in 1967 to honor the town of York, Pennsylvania", and discontinued in 2007.
The Yorketowne pattern is well known so you can easily search for "pfaltzgraff yorketowne", and find a huge array. Add in the specific item you're looking for, and you'll see get lucky with your search.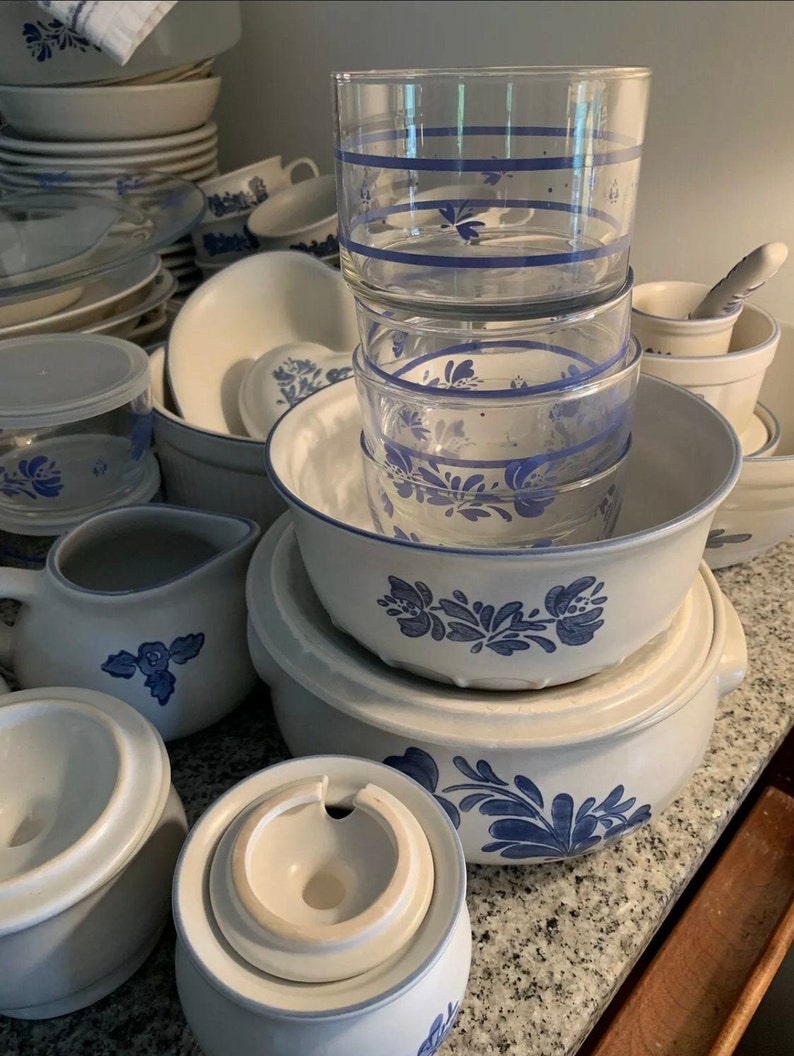 There are even listings for bundles if you're interested in a set, like this 80 piece set from GotGlassandMore on Etsy…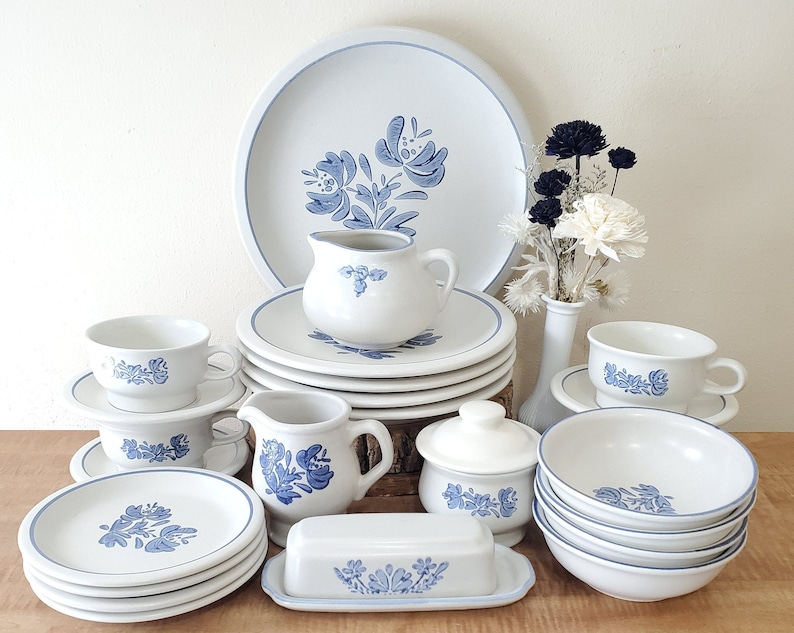 … this 24 piece set from ParkwoodTreasures on Etsy…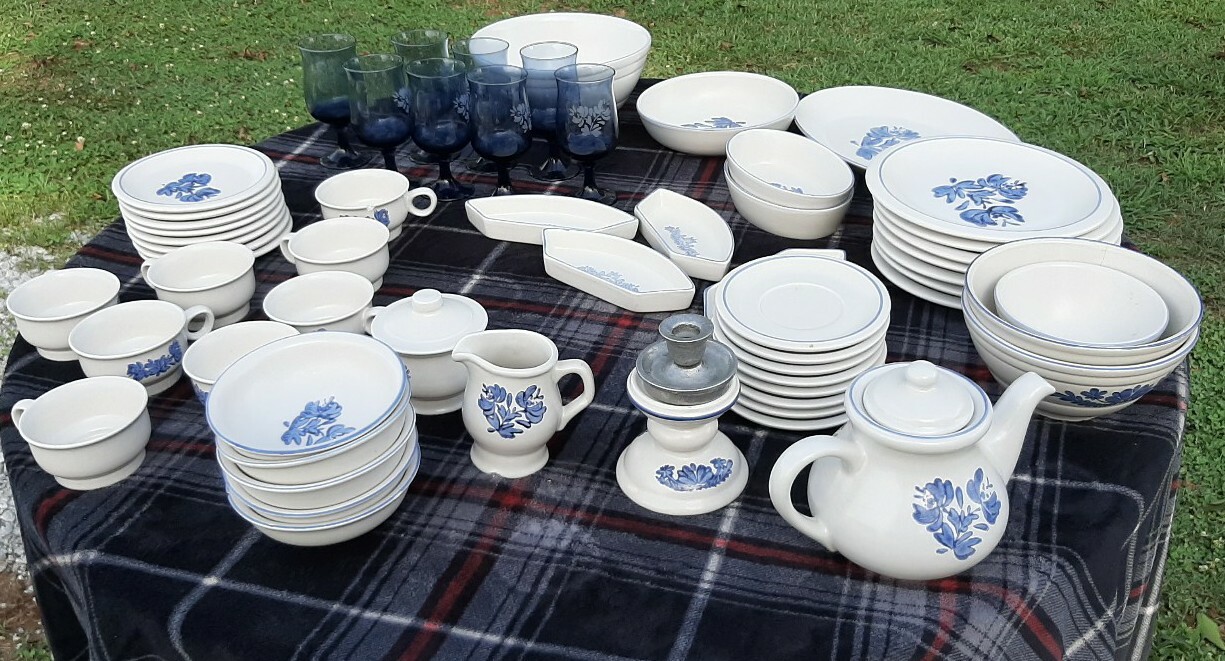 … or this 52 piece set from see*and*ye*shall*find on eBay.
How to Price Pfaltzgraff Yorketowne Stoneware
I have each one individually listed because there is a better chance of selling, rather than as a set because some folks might only want two for gifting or for them and their significant other, or maybe they just need one to complete their set because one broke many years ago.
These Footed Mugs range from $5 – 9 (with some even higher). Mine are priced at $6 each.
This is a spoon rest. I really like the heart that's at the top – it's a sweet touch. I found some of these in the $30 range, and a few of them listed for $50! Since mine was slightly worn, I priced mine at $30.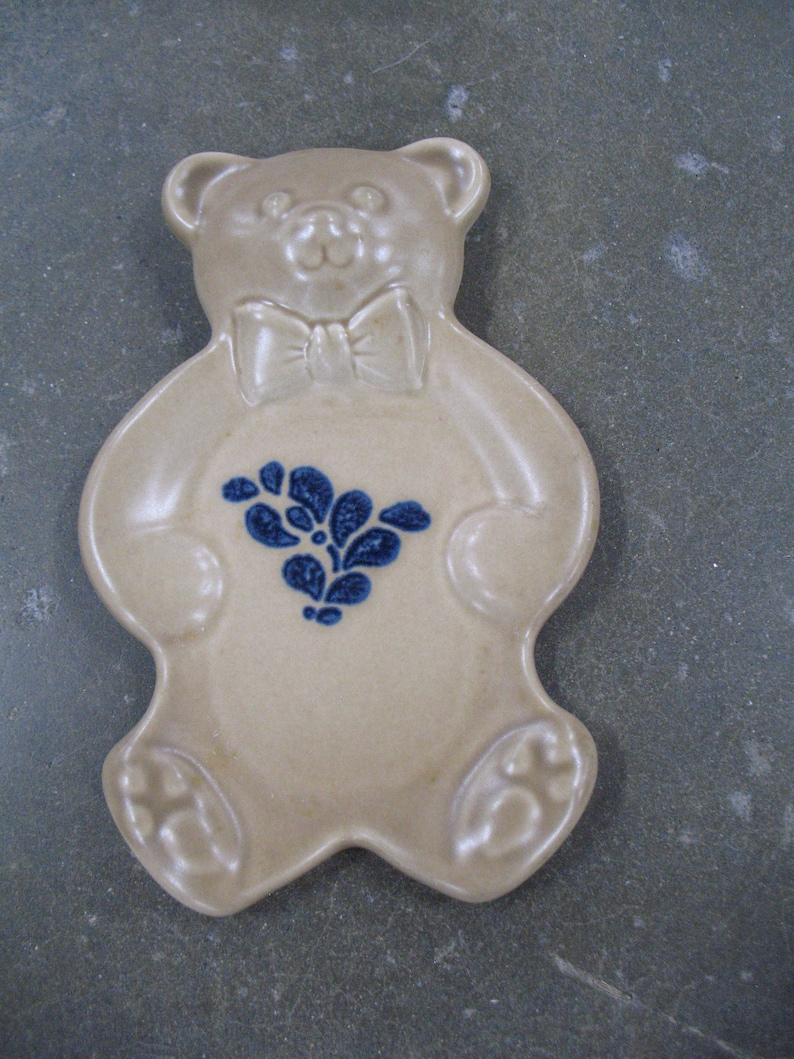 I also wanted to share this adorable teddy bear spoon rest I found in search! It's a rare find – I only found two listings for them. You can find this one in the StandpipeAntiques shop on Etsy for only $12.
This vegetable serving bowl is about 8.5″, and a short bowl. It ranges from $12 – $25. I have mine priced at $15.
This heart shaped bowl is really beautiful! It's a tall bowl that can be used for serving, but would also be perfect for some filler balls or bon bons and used as decor. While the price for this bowl ranges, I found that the average is $15, which is what I priced mine at.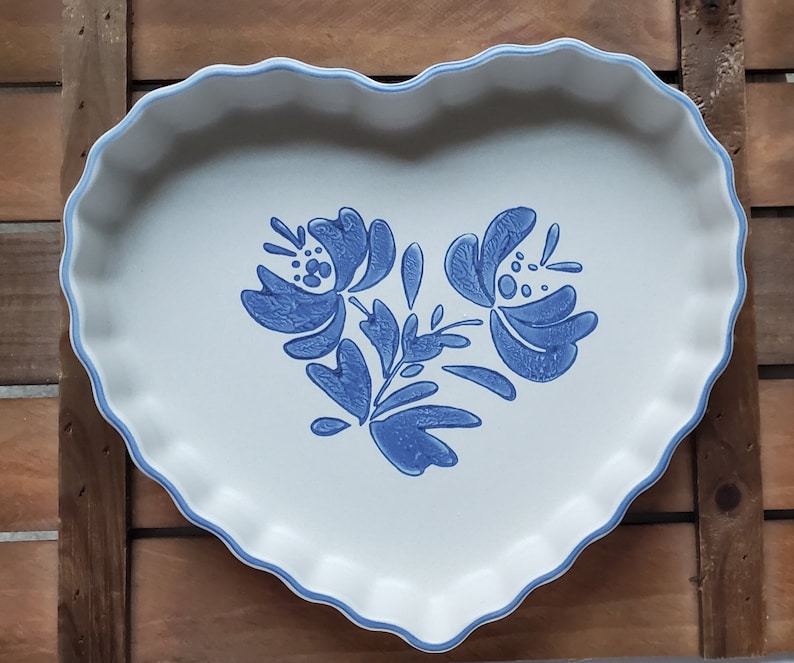 I wanted to share this gorgeous heart quiche dish I found in search. You can find this in VirginiasChinaCloset for $25.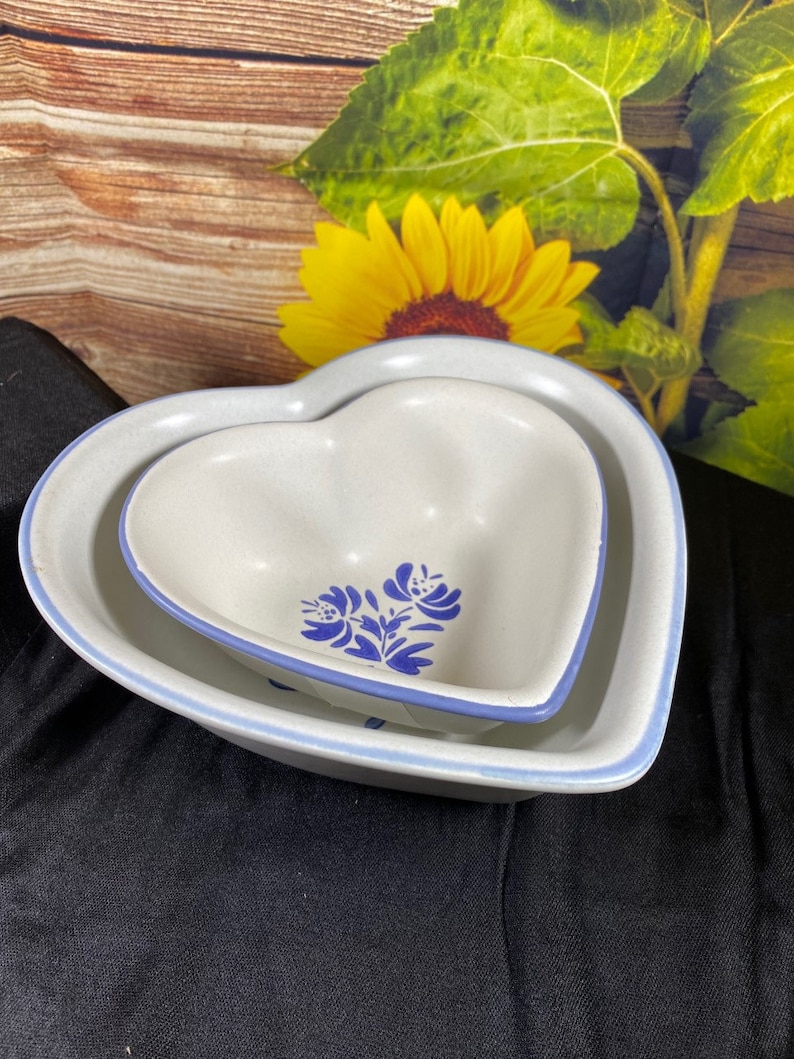 And I also found a listing for nesting heart bowls in the StorageFindTreasures shop for $28. Just looking at the stamp, the smaller one appears to be newer, but what a great set to have!
I have a set of three of these enamel nesting bowls. They're supposed to be mixing bowls, but the inside of the ones I have are distressed as is the outside of them in some spots – you can see on the bottom right. It looks like it is supposed to be like that, and make really fantastic decorative bowls! They are shaped more like baking pans.
I only found one listing for these exact bowls – right here in the mainstreetstore on eBay for $23, and it's only for 2 of them, but they are in great condition without the distressing.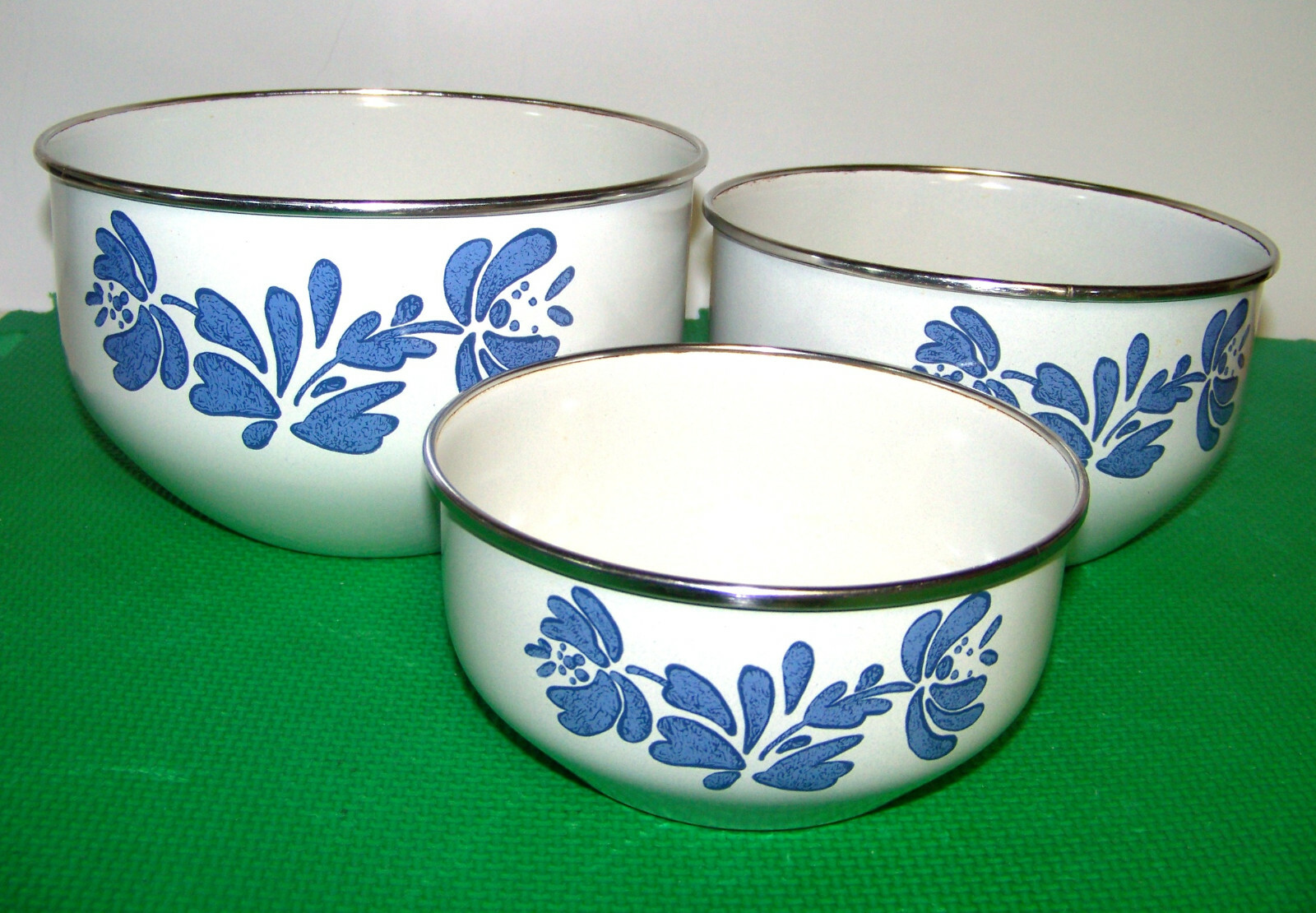 In my searching, I also found a set of enamel mixing bowls shaped like mixing bowls in the dennycsr shop on eBay for $18. These have some distressing.
I have a few other pieces that I didn't get good individual photos of, but you can see them here on my shelf…
The top row has two different casserole dishes with lids. One of them has handles on the sides, and the other one doesn't.
The one of the left is without handles, and I was only able to find ones matching this on Mercari. Looks like it ranges from $13 – $15. Mine was scratched up inside, so I listed it for just $5.
The one of the right is with handles, and is much more popular – see all the options on Etsy. It's a 2 quart casserole dish, and it ranges from $25 – $45. I priced mine at $25.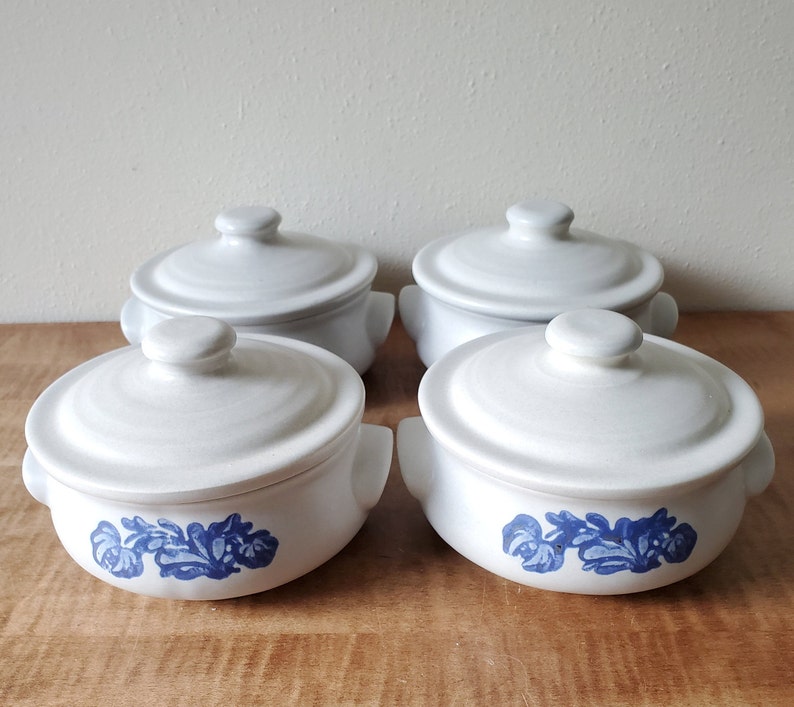 I had to share this listing I found in search. It's for 4 soup bowls with lids that look exactly like the casserole dish. How cute?! You can get them from ParkwoodTreasures for $66.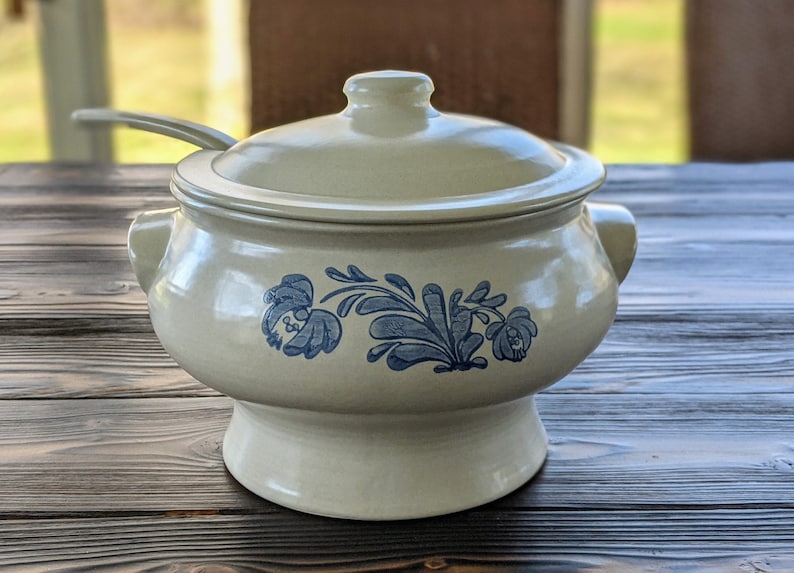 There is also a soup tureen that looks exactly like the casserole dish but footed. You can get one from VagabondVin for $78.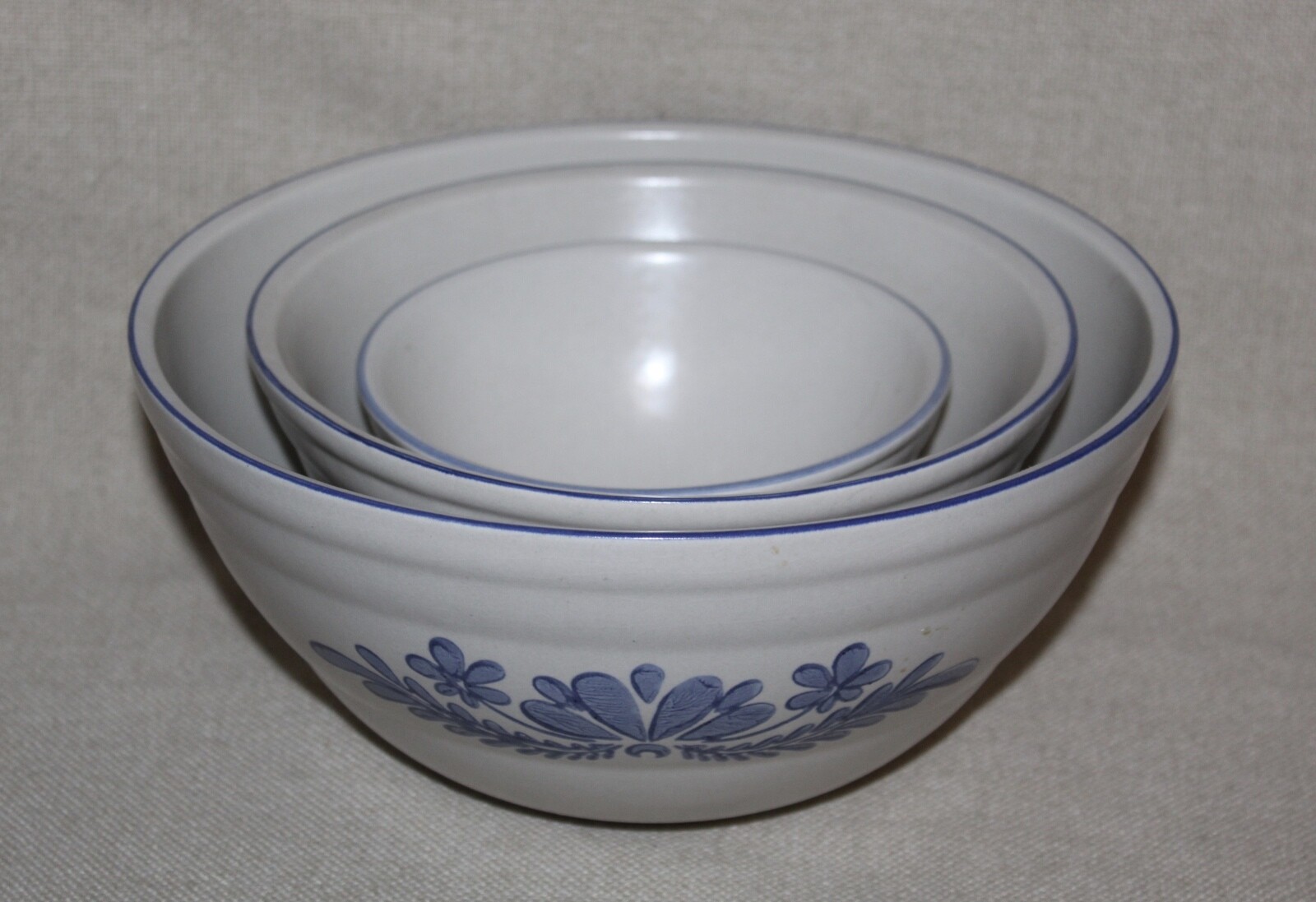 The bowl on the right of my shelf is a large mixing bowl, and it ranges from $17 – $30. With scratches on the inside of my bowl, I priced it at $5. You can also get it in a set of three, like this one from bb11565 on eBay for $50.
The last piece you can see on my shelf you haven't seen already is the sugar bowl with lid. They range from $9 – $14. I priced mine at $10.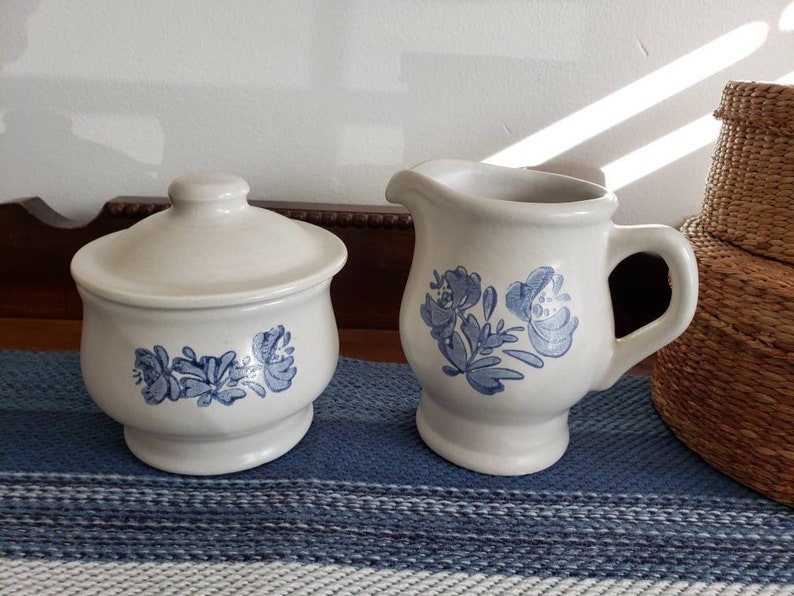 If you'd like a sugar and cream set, I found this one from RediscoveredRoots on Etsy for $28.
There is so many other great pieces from the Pfaltzgraff Yorketowne collection. You can check them all out on Etsy right here!
The first time I took my collection to my booth, since I didn't have any china, I set all the pieces up on my dining table.
The following week, I moved them to my bookshelf so I could set the table with china.
Join one of my awesome Facebook groups to share in, and see what others are up to!
– EyeLoveKnots Crochet & DIY Community
– DIY Home On Rockwood Lane
– Alexandra Lane Lifestyle
Linked Up To…
Farmhouse Friday #205 – County Road 407
Tuesday Turn About #100 – My Wee Abode
All About Home #92 – Common Ground
Home Matters Linky Party #332 – Modern on Monticello
Create, Bake, Grow and Gather Party – Shabby Art Boutique
You're the Star Blog Hop – Decor Craft Design
Unlimited Link Party 26 – Grammy's Grid
The Hearth and Soul Link Party – April, the 21st Century Housewife
590th Inspire Me Tuesday – A Stroll Thru Life
Fabulous Party 372 – Lou Lou Girls
Party in Your PJs #359 – The Apple Street Cottage
Your Whims Wednesday #512 – My Girlish Whims
Thursday Favorite Things #490 – An Artful Mom
Encouraging Hearts & Home Blog Hop – Scratch Made Food
Traffic Jam Weekend Linky Party #282 – My Bijou Life
Friday Favorites – Busy Being Jennifer
Funtastic Friday Link Party #333 – Simply Beautiful by Angela
Link Your Stuff – Annemarie's Haakblog
A Morning Cup of Joe – The Cottage Market
Snickerdoodle Create Bake Make Link Party 386 – EyeLoveKnots